Our eBook, Smart Technology, has been published recently as part of the Computer Science eBook Collection.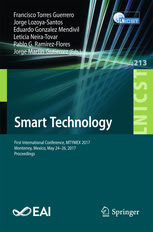 Editors: Torres-Guerrero, F., Lozoya-Santos, J., Gonzalez Mendivil, E., Neira-Tovar, L., Ramirez-Flores, P., Martin-Gutierrez, J. (Eds.)
This book constitutes the refereed proceedings of the First International Conference on Smart Technology, MTYMEX 2017, held in Monterrey, Mexico, in May 2017. The 19 full papers were selected from 30 submissions and cover smart technologies for education, health, robotics, internet of things, virtual augmented and mixed reality technologies, artificial intelligence, gaming, software development, and digital arts.